On this stage, my path crossed the Illinois River, putting me into my fourth county and into the largest settlement so far, and the oldest one I'll encounter on the path: Beardstown.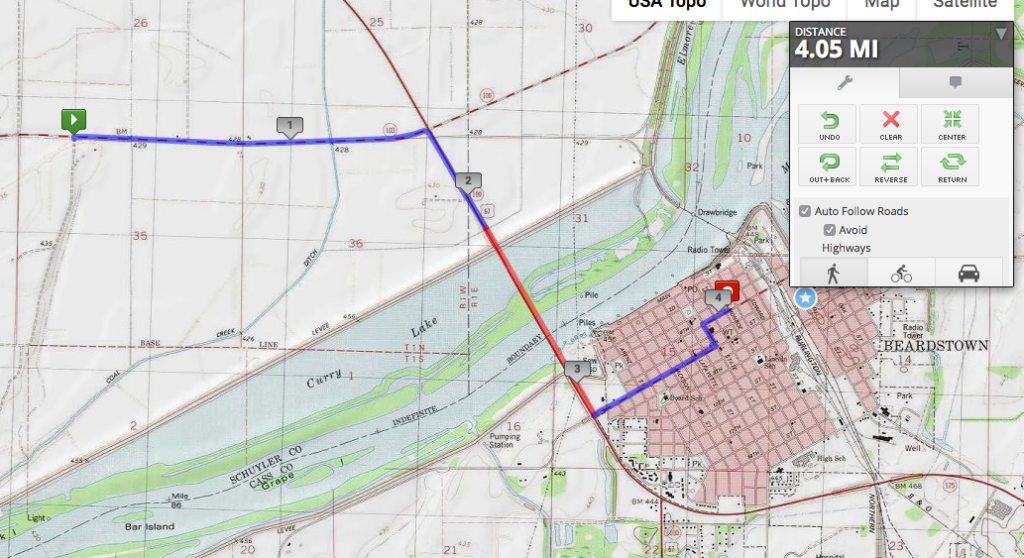 Beardstown is old for an Illinois city, founded in 1826 by, you guessed it, Mr. Beard. Apparently this was a good place for a ferry crossing, though it's hard to tell today with all of the modifications to the riverscape that have happened. The Illinois State Museum claims that Beardstown was known as Porkopolis because of its major industry, and it still has a pork processing plant on the outskirts of town. There was also the Beardstown Fish Company, and in the late 1800s, mussel and pearl fishing developed to feed nearby button factories.
Looking at Beardstown on a satellite image, the scar of the former railroad land is really remarkable. The topographic map up above shows multiple lines, but now there's only the one. But the land is still vacant (probably still owned by the railroad), about a block wide running through town. Most notably, you can see the half-circle shape of a roundhouse still present, just about in the center of this image. If you look at the railroad crossing on 4th Street, there's clearly the old train station that was recently a restaurant/bar.