This stage marks an important milestone: after crossing over half of Illinois from west to east, this is the first time crossing an Interstate highway. I-55 runs from Chicago (just south of the city center) to I-10 west of New Orleans. Here, I'm crossing it just outside the city of Lincoln (more on this city later).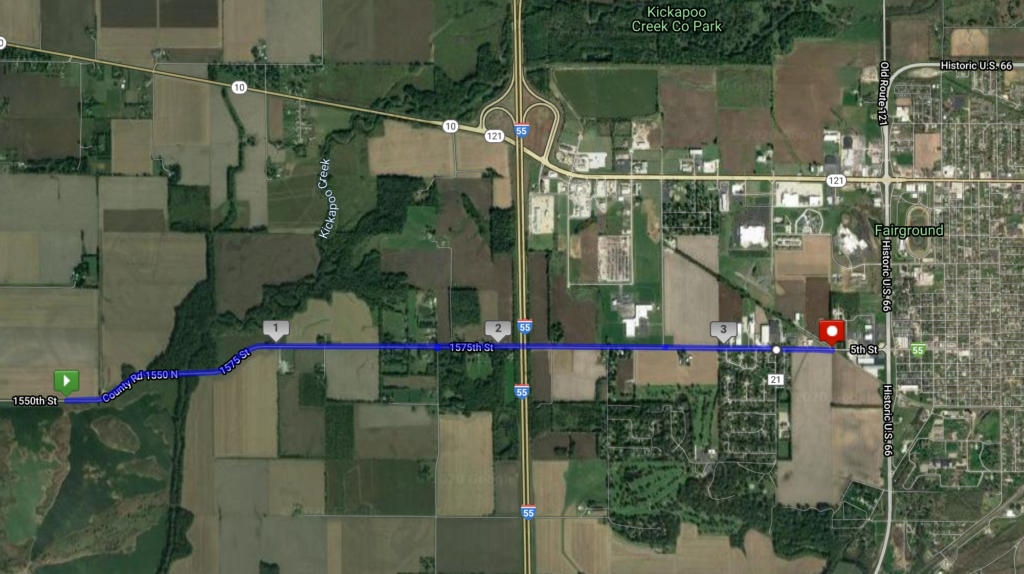 You'll see on the map that today's stage just stops short of Historic U.S. 66. Route 66 is probably the most famous U.S. Highway, formerly running from Chicago to L.A. before it was largely replaced by the U.S. Interstate system. This map actually shows quite well the multiple bypasses typical of even small towns along this route: the original city center, laid out along the railroad, was bypassed by the U.S. highway in the 1940s as long-distance road traffic began to increase in volume. Other land uses that require a lot of space and good access, such as the county fairgrounds, are often built along roads like these. Then in the 1950s/1960s, the Interstate was built at some greater distance from the city center, with a string of gas stations and fast-food restaurants connecting the exit to the built-up area. Lincoln has about 15,000 people, but it reflects the typical spatial development of a U.S. city along the interstate quite well.
Today, Route 66 survives as a unique kind of tourist destination: one you have to drive to experience. Historic gas stations and diners exist all along its length, deliberately drawing on a 1950s-era nostalgia that works well to attract older tourists and Europeans, but is maybe less attractive to younger travelers.