I've been dealing with this ongoing pain/soreness in my IT band/knee/calf since November, and it's finally motivating me to do some strength work so I'm not putting so much stress on my lower legs when I run. Runner's World has this great 30-day cross-training challenge going on, so in addition to virtually running across Illinois, I'm also doing different kinds of runs plus some strength work.
Today was a "hill run," which in my part of Illinois, is very difficult. Like, I have to run two miles to get to something approximating a hill, and then it's a good thing that this particular workout considers only 30 seconds of running uphill to be one rep, because that's all the hill there is. This is how I traveled today's stage, ending in the town of Golden.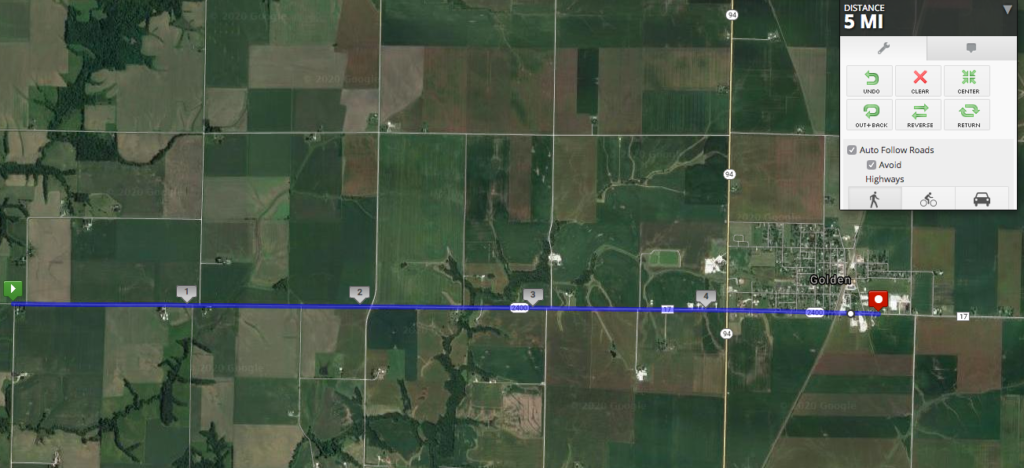 Golden is distinctive to me for two reasons: I crossed the BNSF/Amtrak tracks leading from Chicago to Quincy, the first major railroad crossing of the trip, and I ended my virtual run in front of this beauty:
According to goldenwindmill.org, this is "the only restored, US-built windmill operating with its original millstones and wood gear mechanism." It's also one of only two downstate Dutch windmills (now I have to go find where the other one is), and it has a sister windmill built by the same person in Felde, Germany. Many of the immigrants to this area were from Ostfriesland, the northwestern corner of Germany, and they knew how to drain the swampy land of this area that other white settlers had passed on. The mill didn't mill anything after 1930, but in the 1990s it was restored, and today there's a museum and gift shop on the ground floor.