The terrain is starting to get more interesting as we head down into the Illinois River Valley. Today's stage crossed the Le Moine River, marking the boundary between tiny Brown County (very tiny once you take out the prison population) and very small Schuyler County. Back in the day, it was all Schuyler County, but people living in the southern half found it too difficult to get across the Le Moine when the water was high, so they petitioned to form a separate county.
Illinois has way too many counties–102 in total–as part of more local government jurisdictions than any other state–over 7,000. There are over seventy counties in Illinois that are smaller in population than the smallest of Chicago's wards. While many people would agree we should have fewer jurisdictions and possibly more efficient government in the process, no one wants their county to be the one that's consolidated. /rant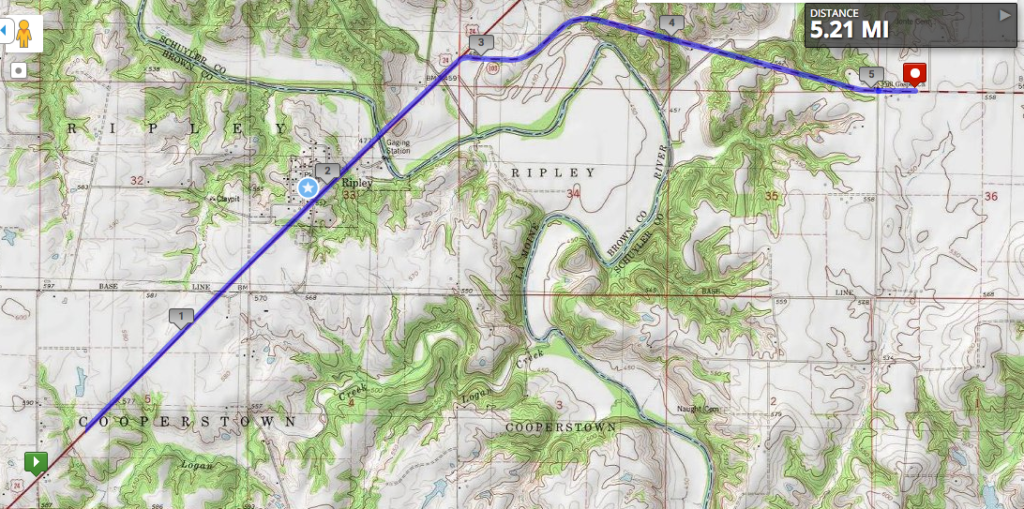 The little town of Ripley that the route passes by, now with about ninety residents, was once known as Jug Town between the 1850s and 1880s. There were eighteen different potteries in the area, using local clay to produce bricks, jugs, and the field tiles mentioned back in Timewell. The Le Moine River might have been a barrier to people trying to reach the county seat, but it was a highway for the potters of Ripley, who carried their goods on it down to the Illinois River, then the Mississippi and on to St. Louis. Eventually, producers who were closer to the river or on railroad tracks overtook Ripley, and there's not much left.